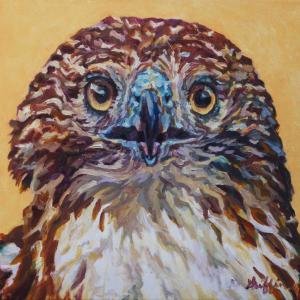 FOR IMMEDIATE RELEASE
International Wildlife Painter Patricia A. Griffin to show new work at, The Historic Newberry Building, Stroudsburg Pa
The Historic Newberry Building, located on 600 Main Street, Stroudsburg Pa. 18360, presents Farm, Field, Forest, a solo exhibition by area resident, Patricia A Griffin The exhibition will open June 1st, with an Artist reception 4pm to 7pm and continue through July 21, 2013. Hours Thursday, Friday, Saturday 11am to 4pm, or by Appointment. Patricia will be giving an on site painting demonstration June 8th, 11am to 4pm and an Artist Talk July, 6th 4pm
Griffin's portraits of animals are thrilling and evocative and explore the subjects of humanity's earliest artists. They are the contemporary manifestation of a long tradition in paintings . She utilizes subject matter as a testing ground for concepts of color and structure. An intense involvement with bold colors and light dominate her paintings....